Sbil

Joined: Tue Oct 12, 2004 3:38 pm
Posts: 48356
Location: Multi-tasking


House of D
House of D
Quote:
House of D is David Duchovny's directorial debut in film, having previously directed an episode of The X-Files for television. The film also stars Erykah Badu, Frank Langella, Téa Leoni, Zelda Williams, Anton Yelchin, and Robin Williams. It was screened at the 2004 Tribeca Film Festival.
Kypade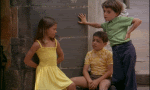 Joined: Sat Oct 30, 2004 10:53 pm
Posts: 7908


ah...l thought l'd been ignored.

guess no one's seen it, is all.
hm. well, for now l;ll just say that l really enjoyed it. A- or so. l definitely recommend it, if it's playing near you.
later, when l'm not asleep, l'll say more. if i remember to.
Forum General

Joined: Thu Nov 11, 2004 1:53 pm
Posts: 8593
Location: Syracuse, NY


I think it looks alright, I'll check it out if it comes near me (no way in HELL will it). I'll rent it.
_________________
Top 10 Films of 20161. La La Land
2. Other People
3. Nocturnal Animals
4. Swiss Army Man
5. Manchester by the Sea
6. The Edge of Seventeen
7. Sing Street
8. Indignation
9. The Lobster
10. Hell or High Water
New Server, Same X


Joined: Wed Oct 13, 2004 7:07 pm
Posts: 27728
Location: ... siiiigh...


This is the first film I've seen where I had to stop myself from heavily scrutinizing everything and just force myself to watch. My favorite show of all time is "The X-Files", so while watching this film, it never left my mind that Fox Mulder himself was writing and directing this film, and loosely basing it on his own life. The few episodes David Duchovny wrote and directed of "The X-Files" weren't among my Top 10, but they were different from the usual X-Files episodes that I had come to expect every week. He had a gift in those behind-the-scenes debuts, and I was curious to find out what might happen if he made his own movie. "House of D" is his very first effort.

For me, I thought the film was enjoyable enough to recommend to others. For most of the film, things flow and the story is very real. But, there are a lot of hit and miss moments, too. Some things don't go well together. I absolutely hated Tommy (Duchovny) bringing his family back to his home near the end of the film. His family was like the perfect family. Well-behaved son (who laughed at seeing his parents make out, which isn't a normal reaction for a teen) and loving wife. They felt completely out of place in a very real movie that made you smile during the happy moments, made you cry during the sad moments, and made you laugh during the funny moments. Duchovny does have a gift off-screen, but his "Brady Bunch"-esque family was too much. If he left them out, the ending would have worked so much better. I also felt the conversation between he and his wife (he was telling the story of the film to her, to make up to her about something he did wrong) could have been left out. Just focus on Tommy reliving his childhood and going back to his home in the end for some closure on life.

Duchovny narrates much of the movie, and is seen on-screen for no more than ten minutes. He was a strong actor when needed on The X-Files, but his acting is decent in this film. His reunion with Pappass (Robin Williams) at the end is one of those "sad moments that make you cry", and it was incredibly emotional, but the rest of his performance was bogged down by his family. The true star (and future star, really) is Anton Yelchin, who portrays Tommy at the important age of 13. He shines throughout the film in all the right places, and his chemistry with Robin Williams in their key moments is really something.

The basic story is that Tommy has three influential figures in his life at 13: his mom (played by Duchovny's real life wife, Tea Leoni), his mentally retarded best friend Pappass (Williams), and the lady serving time in the Women's House of D that he goes to see outside her window. The lady (later found out to be Bernadette) serves time on the top floor of a building, and Tommy talks to her on the ground, searching for answers to all the questions he asks. These three figures in his life are crucial to his future, and when he loses his mother (who ODs on her medication), Lady Bernadette tells Tommy to run. Run as far as he can. One last emotional moment with Pappass, and Tommy went far away from his home. Many years later, Tommy returns to find Pappass, Bernadette, and the gravesite for his mother, seeking closure in his life after he so suddenly left his life behind at the age of 13.

Duchovny's interactions with Williams and Erykah Badu (Bernadette) are heart-warming, albeit cut short rather quickly. Despite the hit-and-miss moments throughout the film, I also could have done without Duchovny's "how times have changed" moments after he returns to his childhood home. Particularily, when Pappass says that he's no longer retarded, he's handicapped or challenged, I groaned at Duchovny's overbearing message about how the world has changed since he was a kid. At least he didn't do a commentary on politics (fictional characters in movies or television commenting on politics, and particulary presidents, is nauseating to me).

All that aside, this was a great debut feature for Duchovny's writing and directing abilities. It's sad that the film didn't catch on a bit more, but I'll be eagerly awaiting his next movie (which may end up being The X-Files 2... in 2020.) Grade: B+
_________________
Ecks Factor: Cancelled too soon