Ip Man 3 (2015)
When Donnie Yen said that he wasn't returning for a third Ip Man film, a collective sigh was heard around the world. Luckily, someone persuaded him to do it and in the end, this film is the best of the Ip Man series.
The film, set in 1959, purviews Ip Man's life in the span of less than a year. Trouble comes abrewing when Ip Man's local school becomes the target of a takeover courtesy of Mike Tyson's Frank. This sets in motion a series of events that leads the grandmaster to come out of the woodwork again.
What this film boils down to is life itself through the lens of Ip Man, his family and his surroundings. You get a taste of action here and there intermixed with scenes of resonance and internal reflection.
Ip Man 3 is not a film that relies on its action scenes to keep audiences interested. In fact, it may be Ip Man 3's quieter moments that one will keep a more vested interest in. These scenes give the film more depth and poignancy than in the previous Ip Man films. When we see the transformation of Ip Man from a stoic, peaceful man to a pissed off and ferocious Wing Chun master, we feel for him, but when you're reduced to helplessness, how do you survive?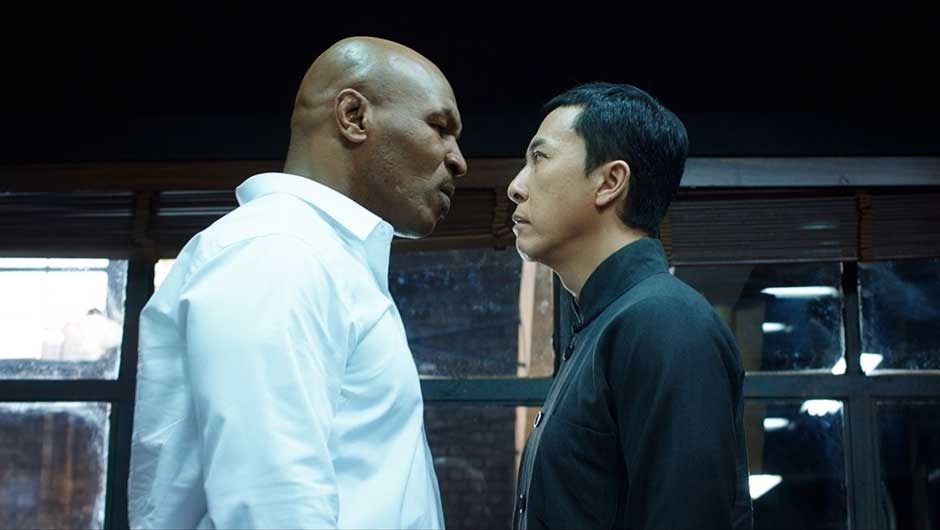 The acting is good for the most part. Donnie Yen is strong in the titular role and Lynn Hung is perhaps the star of the show. Zhang Lin, Patrick Tam and Bryan Leung are equally captivating in their roles as well.
Much has been made about Mike Tyson and depending on your expectations, you'll either be impressed or disappointed. His fighting skills are displayed in full force and this film did justice to him as a fighter and as an accomplished boxer. His acting, however, leaves a lot to be desired. Another actor I wasn't particularly fond of for his acting was Louis Cheung. He kind of irks me but he's only Ip Man's stooge in this film so since he was regulated to being background noise, it was fine for me.
As always, the fighting scenes are fantastic. You won't be disappointed in this area. Yuen Woo Ping is a better action director than Sammo Hung and the fighting scenes focus less on the bone-crunching moves and more on the quick fists and kicks from both Ip Man and his competitor.
The film is not perfect. There could have been some new additions to the fighting styles as most of the fights were similar. Another minor issue was that Mike Tyson should have been left to speak all in English as opposed to speaking random lines in Mandarin/Cantonese.
Ip Man 3, budgeted at 36 million, three times more than Ip Man and Ip Man 2, is doing great in Asian markets and has had really good word of mouth so far. Many seem to agree that this film is the best of the three and the film will most certainly double or even triple its production costs when its box office run ends. It's fitting that this film will make the most money as for once film quality begets a strong box office run. If this film is playing in your area, it is not to be missed. It is a rousing and satisfying conclusion to the Ip Man franchise and the character of Ip Man himself.
My scores for the Ip Man franchise:
Ip Man: 8.5/10
Ip Man 2: 8/10
Ip Man 3: 9/10
Ip Man 3 premiered in Hong Kong on December 24 and will open on January 22 in the US and has a tentative release date for March 4 in China.
Grade:
Article Stats:
Score:
29
Views:
3396