Weekend Box-Office Analysis (Mar 2-4, 2012)
This year's box-office is still on a tremendous roll and there is no stopping it. Even though the studios still messed up their scheduling as far as the R-rated and the family-oriented movies are concerned, the box-office is still thriving. This weekend, Universal's The Lorax could greatly benefit from the marketplace overcroweded with R-rated films and break out in a huge way boosting the Top 12 cume to $152.4 million, up 33.4% from the previous frame. The number was also 25.8% higher than the Top 12 box-office over the same weekend last year when Rango opened on top. Overall, the Top 12 has yet to dip below $90 million – something that has only occurred once before, in 2010 during Avatar's reign of the box-office. Considering we currently don't have an überblockbuster like Avatar out there, it is an immensely impressive performance for the box-office and the great sign of things to come with movies like The Hunger Games, The Avengers and The Dark Knight Rises ahead of us.
For the third year in a row, it is a major family-oriented movie that is leading the audiences into March. Following Alice in Wonderland and last year's Rango, this time it is the adaptation of Dr. Seuss' classic tale The Lorax that opened on top over the first weekend of March. It did so with a bang! The Universal flick took in $70.2 million from 3,729 venues for a per-theatre-average of $18,830. The opening is the 3rd-biggest March opening weekend on record, only behind Alice in Wonderland ($116.1 million) and 300 ($70.9 million). Furthermore, it is actually the 7th-biggest opening ever for an animated film and the 3rd-biggest for non-sequel animated film. To make it even more impressive, it is clearly the biggest opening ever for an animated film not made by DreamWorks or Pixar. There are, indeed, a n umber of superlatives to describe this impressive overperformance. Even with other tremendous surprises this year so far like The Vow's or Safe House's openings, The Lorax's breakout still stands out. It also shows that Universal might just be having its best year. Sure, there have been disappointments by Big Miracle and Wanderlust, but those weren't huge, especially compared to the breakouts of Safe House, Contraband and now, The Lorax. This marks just the third foray of Universal into CG animated territory and after their last success, Despicable Me (also directed by The Lorax's Chris Renaud) which went on to make $251.5 million and will see a follow-up next year, The Lorax makes it appear like Universal might actually establish itself as another powerful studio for animation next to DreamWorks and Disney's Pixar.
As impressive and surprising as The Lorax' opening might be, in hindsight there are still plentiful of explanations. First of all, The Lorax had basically no competition when it entered the marketplace. The studios were bent on overstuffing the market with adult-oriented R-rated releases during the first months of this year. The only real family-oriented films this year so far have been the re-issues of Star Wars: Episode I – The Phantom Menace and Beauty and the Beast as well as Journey 2: The Mysterious Island and The Secret World of Arriety. The former two did more or less expected numbers for re-releases whereas the latter two unexpectedly broke out due to a lack of competition, even though both films have never really even been on the radar for good box-office performance. It wasn't until a true huge family-oriented film came along with The Lorax to reap the benefits from the studios' scheduling. Also, marketing this as being from the makers of Despicable Me certainly must have helped too as that film, being one of 2010's biggest breakouts, was widely beloved. Moreover, The Lorax is another Dr. Seuss adaptation which have always been known to become box-office success stories. Even the widely disliked adaptation of Cat in the Hat still went on to make over $101 million whereas The Grinch and Horton Hears a Who! made $260 million and $154.5 million respectively. Considering the years of inflation and the added bonus of not just 3D, but also IMAX screens, it is maybe a little less surprising now that The Lorax stunned everyone with its tremendous start. That is not to say that it makes it any less impressive. Those arguments are all very valid, but it is just in hindsight that the explanations seem so easy. No one saw such a breakout happening and the future prospects look even better. While it will face IMAX/3D competition from John Carter next week, that film doesn't have the same appeal to families as The Lorax. In fact, there are no real family-oriented films until Mirror Mirror on March 30th and no other animated films until the end of April when Pirates! Band of Misfits is released. Add to that an "A" CinemaScore and you've got sa true winner on your hands. It does make it difficult to assess where it will land when all is said and done, but right now, it is looking good to end up in the $250-280 million range, almost certainly making it one of the ten biggest animated movies of all-time domestically. I certainly wouldn't rule out $300 million, though.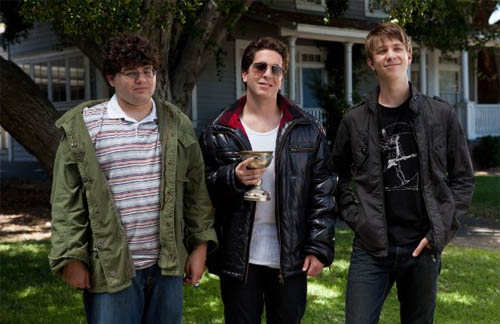 Despite the mentioned overflow of R-rated movies this year, they still don't fail to surprise as the second spot of the box-office this weekend went to Project X. The "found footage" comedy opened to $21.1 million from 3,055 theatres for a PTA of $6,891. Billed as being produced by the maker of The Hangover movies, this is the third movie using the "found footage" ploy this year to become a success, following The Devil Inside ($53.2 million) and Chronicle ($60.8+ million). It looks like this angle is still a great sell, though thelack of teen-oriented comedies certainly helped as well. It became also the 6th R-rated movie this year to open above $20 million. Considering that we had just seven of those in total last year, this is amazingly impressive (especially since The Grey missed it by less than $0.4 million this year). The CinemaScore of a "B" is decent, but doesn't promise any particular longevity. With the frontloadness it has shown since its midnight showings and its Saturday decline, we are most likely looking at a fairly short run. In particular the R-rated 21 Jump Street coming up in two weeks will severely hurt it, as it is aiming at the same target audiences. I see it ending up with $53-58 million, making it a bona fide hit for Warner Bros.
Down to #3, Act of Valor stunned with its great 44.5% decline to $13.6 million, putting its total gross at $45.1 million after just ten days on release. Of course the "A" CinemaScore implied great word-of-mouth, but that didn't help Red Tails much and given the kind of a movie it is, more frontloading was rightfully expected. However, it managed to lose less than half of its audiences despite R-rated competition from Project X. The film is now the 3rd-biggest flick ever for Relativity and a great financial success given its small $12 million budget. This film's unique marketing ploy of using active duty Navy SEALs really paid off in a big way and while we might or might not see a sequel to it, we might see other films trying to emulate its success by using real-life firemen, real-life police officers or, maybe, real-life construction workers? Either way, with the movie having handled Project X well, it should be able to hang in there next week as well as the only R-rated competition, Silent House, is not really targeting the same audiences. Like for Project X, it might be the release of 21 Jump Street that will hurt it in the future as that will also appeal to more adult audiences thanks to the popularity of the old TV series. Act of Valor will end up with around $70-75 million in its pockets, making it yet another big surprise of 2012.
In a somewhat surprising turn of events, Safe House managed to hold on to its 4th spot at the box-office, delivering the best decline in the entire Top 10. The movie dropped just 32.4% to $7.4 million and a $108.4 million total. The most likely explanation, besides the fact that, like Act of Valor, it faced no action competition or competition for adult audiences, is that being a Universal movie like The Lorax, it got some spillover cash from the latter. Either way, it's yet another impressive weekend for this already impressive overperformer. The Denzel Washington/Ryan Reynolds vehicle has now become the biggest R-rated film since last summer's Horrible Bosses ($117.5 million) which it will eclipse soon. This movie as well as Act of Valor are great showcases that an action film tdoesn't need to be rated PG-13 to become a great success and play to wide audiences. That should put those who made the decision to release The Expendables 2 as a PG-13 flick to shame. Safe House has become Washington's 3rd-biggest film to date now. However, it is trailing American Gangster by over $7 million in total gross now and is unlikely to ever catch up. Safe House will go on to make $125 million in North America before the end of its run.
As expected, Tyler Perry's Good Deeds posted the worst hold in the Top 12 this weekend, diving 54.8% to $7 million and #5 of the box-office. Its $25.8 million total probably still means profit for LionsGate as Tyler Perry's movies never boast a big budget. Even though the film will vanish very quickly as his films usually do and gross around $37 million in total, Tyler Perry still remains LionsGate's most consistent cash cow. With Tyler Perry's The Marriage Counselor set for a July release, LionsGate should have another success on their hands this summer.
Journey 2: The Mysterious Island clearly suffered under the release of some major family-oriented competition. Dropping to #6, the 3D sequel lot 51.1% of its audiences and grabbed just $6.5 million in its fourth weekend, bringing its running total to $85.2 million. Its leggy run thus far could be explained by the film being the only major flick out there with real family appeal and The Lorax obviously filled the competition gap. Moreover, it also most likely lost almost all of its precious IMAX screens to The Lorax, further hurting it. For the first time its weekend gross fell behind that of its predecessor, Journey to the Center of the Earth. However, it is still tracking $12 million ahead of that film in total. The onslaught of John Carter next week, which will take away the remaining IMAX showtimes from Journey 2 as well as a lot of its 3D screens, should ensure that the gap between the two films will keep getting smaller. However, with no family films after that until Mirror Mirror it might be able to recover a bit and sail smoothly until the end of its run where it will find itself with a great $100 million total. It will be a long struggle there, but I firmly believe that as long as it gets really close (which it should), Warner Bros. will make sure that it makes it past the mark, giving the studio their first $100 million movie of the year.
The Vow dropped two slots down to #7 as it decreased 39.4% to $6 million. That put its running total at $11.6 million. The Vow is still the reigning movie of 2012, but that will come to an end next weekend when it will be overtaken by The Lorax. Either way, it has been a terrific performance so far, making it not only one of the biggest dramatic romances ever, but also by far the biggest film ever for the distributor ScreenGems. Later this month, we'll see whether this film's great success helped the bankability of its star Channing Tatum when his movie 21 Jump Street hits the screens or whether he can just sell romances like The Vow or Dear John. It's also quite interesting to watch the race between Safe House and The Vow which both opened over $40 million four weeks ago and are having rather similar box-office runs. Right now it looks like both might end within just $1 million of one another as I project a $125 million for The Vow as well.
Similar to The Vow, This Means War was able to benefit from the lack of competition as far as date movies are concerned. The action romcom settled for the 8th spot this weekend with a $5.6 million gross (down 34%) which brought its running cume to $41.4 million after three weeks. While this is a good hold, the $65 million has to rely on overseas grosses (which are quite solid) to make back its budget. Reese Witherspoon's presence obviously helped as without her the film would have made even less, but it appears as if her draw isn't as huge as it used to be around 9-10 years ago. The lack of competition during the upcoming weeks should help it, but with The Hunger Games' great female appeal, it should suffer once that film hits the screens. This Means War has taken course towards a $54 million total.
Sony's Ghost Rider: Spirit of Vengeance made $4.5 million over the weekend, dipping 49.5% to #9 of the box-office. With a $44.8 million total thus far, it doesn't seem like it has much gas left in the tank. Being a major PG-13-rated blockbuster, John Carter should snatch away its 3D screens as well as a large chunk of its audiences. The Ghost Rider sequel will go on to finish with $51 million in its pockets. That's pretty much an expected outcome for a sequel that no one really asked for, though with a $57 million budget Sony still won't complain much.
The 10th spot of the box-office went to the disappointed Paul Rudd/Jennifer Aniston comedy Wanderlust. The strong cast couldn't help the Universal flick as it dropped 41.1% after its already disappointing opening. A $3.8 million weekend take put its running total at $12.5 million. With mediocre WoM at best and upcoming R-rated competition from 21 Jump Street its days in theatres are counted. It will finish with about $19 million.
Last weekend's big Academy Awards winner The Artist could somewhat capitalize on its Oscars success, though probably not to the extent that the Weinsteins hoped for. The film experienced a huge expansion as it added 790 theatres bringing its total theatre count to 1,756. Its weekend take, however, was still only 24.8% up from the last weekend, giving it a $3.6 million gross for a $36.8 million total. Despite an overwhelming critical praise and great awards success the black/white silent film just can't break into mainstream. Its performance so far should be considered great for the type of a movie that it is, but for the Best Picture winner that is still widely playing in theatres, it is ever so slightly disappointing. There is just a limit to how much general audiences are willing to overcome their resistance to see a silent film awards or no awards. This will most likely make The Artist the only Best Picture winner that opened during the awards season and still never made it into the Top 10 of the box-office. On the other hand, it is already the biggest non-IMAX movie ever that never made it into the Top 10, beating In the Bedroom. I expect it to hang in there outside the Top 12 for quite a bit, though and find its way to a $50-55 million total afterall.
Rounding off the Top 12, Amanda Seyfried's critically blasted thriller Gone somehow managed a respectable 37.1% hold. A $3 million weekend brought its total to $8.9 million. Obviously, it will be losing a lot of screens and theatres in the upcoming weeks and this hold should be regarded as nothing more but a fluke. The film will finish with $14 million.
As for the other Oscar films, the Best Adapted Screenplay winner The Descendants held on to its #15 slot, losing 39.4% for a $1.3 million weekend. Its $80.4 million total makes it the 4th-biggest movie ever to never enter the Top 5 and the 2nd-biggest non-IMAX film to do so. The last word isn't said yet whether it will be able to top Up in the Air's $83.8 million. Clooney losing the Oscar to Dujardin hasn't helped matters, but I still think it might be able to make it, crawling to a $84 million total. Obviously, it is still a tremendous success for this type of film. The five-time winner Hugo (which similar to Inception last year only won technical awards, though) dipped just 18.3% to $1.2 million. Its $71.3 million total is okay by itself, but with a $150+ million budget and a tepid overseas performance, it stands as a big financial loser. With the DVD out, its theatrical run is nearing its end. It should find its way to $73 million. The Best Foreign Language Picture winner A Separation is faring quite well an expansion to 260 theatres allowed for a weekend take of almost $1 million and a $3.7 million total so far. It should eclipse $6 million eventually. At last, The Iron Lady which won two Oscars including Best Actress for Meryl Streep jumped 22.4% to $0.9 million and a $27 million total, even though it actually lost 11 theatres. The Margaret Thatcher biopic should now get close to $30 million.
Article Stats:
Score:
26
Views:
2403