Weekend Box-Office Analysis (Feb 24-26, 2012)
Coming off the holiday Presidents Day weekend the Top 12 box-office declined for the second time in a row (this time by 19.2%), but it still amassed a hefty $115.8 million. That figure is up 20.5% from the same frame last year when the Farrelly Bros.' comedy Hall Pass opened to disappointing numbers at the top spot. The competition from the four new openers (only two of which delivered convincing numbers) and the lack of a holiday Monday boost, however, led to all non-family-oriented holdovers in the Top 12 decreasing by over 50%.
The R-rated action film Act of Valor took the top position with ease, making $24.7 million from 3,039 venues in the process. It averaged a very solid $8,128 per theatre. The $12 million feature became the 6th R-rated movie this year to lead the weekend box-office and the 5th R-rated film to deliver a $20 million opening within just two months. It is an impressive number considering we only had six $20+ million R-rated openers in total last year. It also goes on to show that if the marketing is right and the people are interested, the rating won't hurt a film's success at all. In Act of Valor's case the unique hook was that the film's action heroes are played by real-life active duty Navy Seals and the movie supposedly shows their actual strategies and tactics. Now the film critics haven't been particularly generous to the movie (it currently stands at 30% positive reviews at Rottentomatoes.com), but the audiences apparently loved it, giving it an "A" CinemaScore. The film's successful opening also puts Relativity back on track for success after the fairly disappointing performance by Haywire (which currently sits at $18.8 million domestically). Act of Valor's opening alone already makes it Relativity's fourth-biggest release to date. Despite the apparently strong word-of-mouth, I don't expect very strong legs for the movie. As its performance over the weekend has shown, it has a certain degree of frontloadness to it and should suffer severe drops over the next weeks. In particular next weekend's R-rated Project X should hurt it with 21 Jump Street delivering it a blow later in March. Either way, the film is heading for a $55-60 million finish, making it another great R-rated success story for 2012.
Lionsgate's non-Saw cash cow Tyler Perry delivered yet another movie this weekend. Tyler Perry's Good Deeds (once again written, directed and starring Tyler Perry) settled for #2 this weekend with a $16 million gross from 2,132 theatres for a per-theatre-average of $7,505. Given that Perry's films rarely cost more than $20 million, this should be yet another formidable success for Lionsgate. However, looking at Perry's track record, one can't help, but see Good Deeds as an ever so slight disappointing. Its opening weekend is the second-lowest ever for a movie directed by Tyler Perry (only ahead of Daddy's Little Girls which opened to $11.2 million in 2007). None of Perry's last five movies opened to less than $19 million. Perry is usually at his most successful when making a movie with the character of Madea, but that still doesn't explain why Good Deeds didn't open a bit better than it actually did. I suppose the competition for urban audiences that was still coming from Safe House was pretty strong. Good Deeds is enjoying good WoM, as showcased by its "A" CinemaScore, but that has never mattered for the naturally frontloaded Tyler Perry movies. Of the 11 movies he has directed only one has actually passed an opening-to-total multiplier of 2.5 and this won't change with Good Deeds either. It'll end up with around $34-37 million. It's a decent gross, but it shows that even Tyler Perry is not a completely bulletproof draw.
The surprisingly successful sequel that seemingly no one asked for, Journey 2: The Mysterious Island rose one spot in the Top 12 to #3 as it dipped a mere 32% in its third weekend. It is an even more remarkable hold, considering it is already coming off a terrific hold last weekend which was boosted due to the holiday on Monday. In its third outing, Journey 2 grossed $13.5 million, putting its running total at $76.7 million after just 17 days. Right now the Rock-starrer is tracking over $16 million ahead of its predecessor, Journey to the Center of the Earth at the same point of their runs. That gap will decrease dramatically over the next few weeks as Journey 2 is not only lacking the summer weekdays that the first film had, but will also face extremely stiff competition from The Lorax next weekend and John Carter the weekend after. It will lose many 3D-screens and most notably all of its IMAX screens to those films. Moreover, The Lorax, which is likely to be a big success as it is an adaptation of a beloved Dr. Seuss classic, will take a huge chunk out of its family audiences. So far Journey 2: The Mysterious Island could greatly benefit from an almost utter lack of any family-oriented films released this year, therefore helping it to defy expectations and overperform the way it did. This great run should come to a screeching halt in the next two weeks, though. Either way it has already done splendidly in North America (and even better overseas). It is rare that a sequel to a surprise breakout still performs well over expectations, but Journey 2 did it. The film will go on to finish with around $100-105 million. While its path to $100 million might be a bit of a struggle, I believe that Warner Bros. will push it beyond the barrier if necessary. It appears as if Dwayne "The Rock" Johnson has finally found his niche. While it didn't work out so well for him with straight-forward action films or with family flicks, he seems to land hits with sequels. Later this year, when G.I. Joe: Retaliation is released, we'll see if this theory still holds.
Last weekend's winner Safe House suffered under competition from Act of Valor and dropped all the way down to #4, losing 51.8% of its audiences. A 3rd weekend take of $11.4 million put the Universal action-thriller at $98.1 million, making it the 4th-biggest movie of Denzel Washington's successful career. Due to this unfortunate drop, Safe House is still tracking behind Washington's top grosser, American Gangster. The gap between the two is at around $2.5 million and unless Safe House manages a solid recovery next weekend, American Gangster's status should be safe. The problem is still the unreasonable scheduling by the studios which have stuffed the first quarter of 2012 with R-rated movies. Next weekend's Project X is another major R-rated release, while the R-rated TV series adaptation 21 Jump Street actually has a weekend just to itself on March 16th. Safe House enjoys very good WoM and that might kick in later in its run, but the R-rated competition certainly will be hurting it. Right now I project a $124 million total for the film which would comfortably put it down as the 2nd-biggest film ever domestically for Washington, once again confirming him as one of the Top 5 biggest box-office draws in Hollywood.
Even though it didn't suffer much direct competition, the romantic drama The Vow dropped 56.6% to the 5th spot of the box-office, making $10 million in its third weekend. Nevertheless, the Channing Tatum/Rachel McAdams breakout hit became the first movie of 2012 to pass the $100 million mark with $103 million in the bank by the end of Sunday. It has been an immensely impressive run for this film with the highlights being not only its $40+ million opening, but its insane $11.6 million Valentine's Day gross. It looks like its run is winding down quickly now, though. It won't face any romantic competition throughout all of March which might help it to stabilize, though The Hunger Games will definitely attract a lot of females which make up the largest part of The Vow's audiences. I expect a decent, though unremarkable run from now on which will lead it to a $126 million total gross when all is said and done.
Ghost Rider: Spirit of Vengeance was down 60.2% in its sophomore frame, occupying the 6th slot of the box-office. Its weekend gross of $8.8 million put the badly-reviewed comic book adaptation sequel at $37.8 million after ten days on release. It is not necessarily an all-out awful number for a sequel to a five year old comic book adaptation that not many people liked in the first place. In particular the reduced $57 million budget makes the performance seem alright. Nonetheless, it should be mentioned that Ghost Rider: Spirit of Vengeance is tracking over $41 million behind the first film, a gap that will continue to widen over the next weeks. With the added bonus of 3D and barely any competition in the marketplace that is not rated R, its sub-$40 million total by the end of its second weekend is nothing to write home about either. It will lose its screens and theatres quickly, especially to 3D competition like The Lorax and John Carter. The Ghost Rider sequel will collect $51 million in theatres before the end of its run. We won't see a third one anytime soon.
The Reese Witherspoon vehicle This Means War slid two spots down to #7 this weekend. With a $8.5 million weekend take (down 51.6%) the action comedy brought its running total to $33.6 million by the end of its second weekend. It's a less-than-spectacular performance for this $65 million flick and it's "A-" CinemaScore as well as a lack of competition this weekend apparently are not helping it much either. It won't face any real competition for dating crowds throughout March, so that might help the future prospects. On the other hand, I see it losing its theatres pretty fast which will limit the legs. It should barely crawl past $50 million and settle for an underwhelming $51 million cume.
Universal is having a real hit/miss year. After Contraband (currently at $66.2 million) broke out, Big Miracle disappointed shortly after. Then Safe House broke out in a huge fashion, only for Wanderlust to let down this weekend. It opened at the 8th spot to just $6.6 million from 2,002 venues for a PTA of $3,927. The $35 million comedy marks a rare miss for producer Judd Apatow with only Walk Hard: The Dewey Cox Story delivering a worse opening during the past 16 years. Wanderlust marks the fourth collaboration between Paul Rudd and director David Wain. Their last film together was Role Models which made a respectable $67.3 million back in 2008. It looks like a messy marketing and the overabundance of R-rated films hurt Wanderlust and not even the draw of Aniston and Rudd could save it. The "B-" CinemaScore won't help the legs either as I expect the film to vanish soon with a $16-17 million total in its pockets.
Wanderlust was not the weekend's worst opener, though. The critically maligned thriller Gone, starring Amanda Seyfried, opened at #9 with just $5 million from 2,186 theatres (PTA of $2,287). It's the second letdown for Summit Entertainment this year, following Man on a Ledge ($18.6 million). With such a small opening, terrible reviews and a "C+" CinemaScore, its life in theatres will be quite short. I don't see it making more than $11-12 million throughout its run.
Last weekend's major surprise, The Secret World of Arriety, rounded off the Top 10 with the best hold in the entire Top 12. The studio Ghibli animated film was down just 30.1% to $4.5 million and $14.7 million after ten days, already making it the 6th-biggest anime ever in North America. During the week, it will pas Ponyo as the biggest studio Ghibli release in the US. Now The Lorax will hurt it next weekend, but as Ghibli also appeals to adults because of their acclaim and not to children, I still expect it to survive the competition and have a decent run throughout March. It will wind up with $25 million in the bank.
Chronicle dropped out of the Top 10 in its 4th week, going down to #11. The "found footage" flick decreased 51.4% to $3.7 million. Its running cume now stands at $58 million. The movie has had terrific legs for the kind of a film it is so far, but it is obviously suffering under the onslaught on new releases as it lost over 750 theatres. It might still benefit a bit from the upcoming lack of direct PG-13 competition for teens which really won't have much until The Hunger Games opens towards the end of March. However, shedding theatres like crazy will obviously hurt the longevity. Chronicle will finds its way to a $66 million finish.
At last, Star Wars: Episode I – The Phantom Menace keeps dropping like a rock. Falling down to #12, the 3D re-release added another $3.1 million (down 61.1%) to its gross, putting its domestic total at $40.4 million and the lifetime domestic gross at $471.5 million. There isn't much life left in this re-issue and it will wind up with a total of $44 million in North America.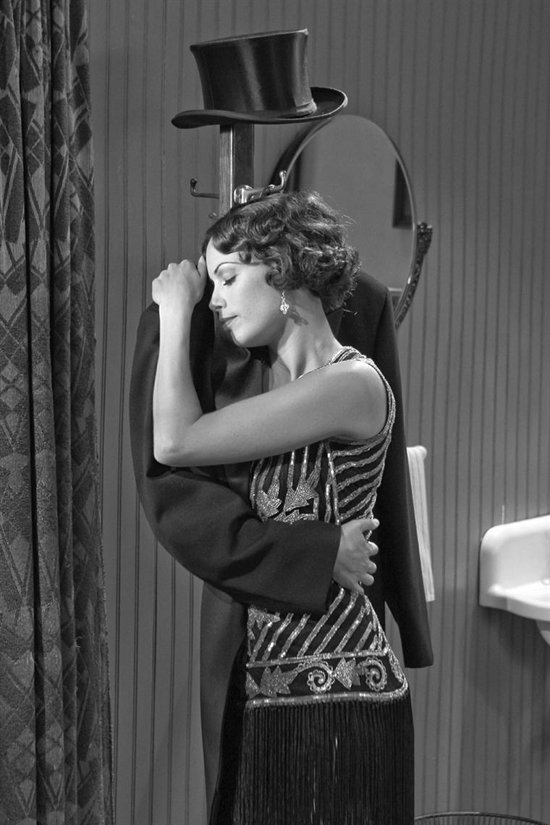 Looking at the Academy Awards contenders – The Artist barely missed the Top 12, landing at #13. The movie that has just won five Academy Awards, including Oscars for Picture, Director and Actor added 158 theatres this weekend for a total theatre count of 966. That and its ever-increasing Oscar buzz led to a formidable 23.4% jump to $3 million as it delivered its biggest single weekend gross to date. Despite the added theatres, its per-theatre-average actually increased by 3% as well indicating good things in its future. Right now the Weinsteins flick stands at $31.9 million, making it the 11th-biggest film ever to never hit the Top 10 on a weekend. That, however, should change now. The studio will likely add a lot more theatres next weekend and it will finally break into the Top 10 in its 15th weekend. There is still some untapped potential in this film's box-office and its great performance at the Oscars will help it tremendously. I see it finishing with around $45-50 million. The Descendants dropped 25% to $2.2 million and a total of $78.5 million. As it wasn't very lucky at the Oscars, winning only the award for Best Adapted Screenplay, its awards buzz boost won't be helping it any longer and I don't think it will stick around for long from now on. However, it is already a great success for Clooney, Payne and Fox Searchlight. I think it will barely pas Up in the Air's final gross and settle for $84 million. At last, Hugo has proven to be very leggy after its 11 nominations have been announced. Though the film has won five Oscars tonight, all of them were in technical categories and shouldn't give it much of a boost in future. Hugo dropped just 5.2% over the weekend to $1.6 million and a $69.4 million total. Its PTA actually increased once again. I expect it to end up with $71 million now.
Article Stats:
Score:
32
Views:
2283