Top 10 Biggest Box-Office Disappointments of 2011
Now that we're one month into 2012 we've seen several solid box-office surprises, some bigger than the others. We have yet to witness a truly big disappointment, though. It's not surprising, however, that we haven't seen one yet. The simple explanation for that is that around this time of the year only very few movies come out with set high expectations, so it is easier for the films to surprise now than to disappoint. This is why most box-office disappointments usually come out during the summer or the holiday season because this is when the studios release their high profile films that, sometimes, just don't live up to the expectations financially.
While the last year has delivered its share of box-office success stories which I elaborated upon in my last article on this topic, it also churned out several major box-office disappointments. However just like with the box-office success stories, very few of these disappointments have been truly spectacular. Let's face it, in terms of domestic success stories 2011 didn't get anywhere close to the years like 2009 (which had Avatar; Star Trek, The Blind Side, Taken and Paul Blart) or 2010 (Alice in Wonderland, Despicable Me and True Grit). On the upside, however, most box-office disappointments haven't been that huge and remarkable either and there have been only very few all-out bombs. Nevertheless, let us take a look at the box-office letdowns released last year. Keep in mind that this article discusses domestic box-office performances only and it is perfectly clear to me that some of the movies mentioned here did terrific numbers overseas.
(Dis)honorable mentions:
There is no doubt that the Pirates of the Caribbean franchise is still a huge commodity for Disney and will be their major cash cow for years to come. However, even though Pirates of the Caribbean: On Stranger Tides made last year's Top 5 with a solid $241.1 million gross, it is difficult to deny that it performed below what we have come to expect of the franchise. The disappointment would have been even bigger if not for Shrek Forever After which in a way set the precedence for that the year before. On Stranger Tides and Shrek Forever After are both fourth instalments in a hugely popular series and their predecessors have been released just one week apart back in May 2007. While the two made well over $300 million, word-of-mouth on the two was mixed. The third Pirates film itself, At World's End, could have been regarded as a slight box-office letdown by itself. It made $309.4 million coming off a $420+ million predecessor just a year earlier. When Shrek Forever After made just 74% of the third film's total despite the added bonus of the 3D premium, it gave us a hint for the likely performance of Pirates of the Caribbean: On Stranger Tides. Still, seeing that film make over $65 million less than the last despite four years of inflation, the 3D bonus and tremendous home video sales for the third movie is a bit of a letdown, even though it is still a decent performance.
Arthur Christmas wasn't a film with a lot of high expectations geared towards it. Aardman's last venture into CG animated filmmaking wasn't greeted with much financial success either as Flushed Away made just $64.7 million in North America on a $149 million production budget. However with Arthur Christmas having received not just great reviews, but also being the only real Christmas-themed movie last year one could have expected a bigger turnout. Usually when there is only one Christmas-oriented movie released into the marketplace during the holiday season it is able to capitalize well on the circumstances. Arthur Christmas, however, despite its 3,300+ theatres release on Thanksgiving made only $46.5 million and wasn't even able to display great legs typical of Christmas-themed movies released around that time of the year.
Early marketing material gave most of us an idea that Conan the Barbarian probably wouldn't end up as a real box-office winner. Not many, however, expected the $90 million Lionsgate 3D tentpole to bomb this badly and gross just $21.3 million throughout its entire run. To add insult to injury, the film also lacked any kind of overseas success one might expect for this type of movie. That August 19-21 weekend has shown that releasing three 3D movies on the same weekend might not be the smartest idea afterall as the other two releases equally disappointed.
One of them was Fright Night which disappointment I consider to be even larger than that of Conan the Barbarian. While also carrying an R-rating (which probably did hurt it quite a bit), the horror remake not only scored surprisingly good reviews for the genre, with Colin Farrell it had a well-known star in its lead (whose successful comedy Horrible Bosses was still doing well in theatres). Moreover, it dealt with vampires who seemed to be quite hot at the moment with the success of Twilight and True Blood. On top of that, it was a 3D release too. In the end, the movie didn't even get close to making its $30 million budget back domestically and ended up with a measly $18.3 million cume despite aggressive marketing and the 3D bonus. What is even more embarrassing is that the original Fright Night actually made a bit more than that 26 years ago ($24.9 million).
Released on the same weekend as the aforementioned two films, Robert Rodriguez' return to the Spy Kids franchise, Spy Kids: All the Time in the World wasn't a financial failure like the two R-rated films. It made $38.5 million on a $27 million budget. Nevertheless the decrease from its predecessors was humongous. Spy Kids 3D made over $111 million eight years earlier and even the lowest-grossing film of the franchzise, Spy Kids 2: The Island of Lost Dreams was able to get past $85 million. Sure the marketing was pretty bad, trying to sell it as a "4D experience" in an attempt to up the ante from the 3D predecessor, but that hasn't hurt other kid flicks before. Even the sequel to Cats & Dogs that was released a year earlier made over $43 million despite seeming even more random. The thing is that Spy Kids had almos no competition to go against (The Smurfs was in its 4th weekend) and no other family-oriented films have been released for weeks following its release. Nevertheless its opening was bad and the legs mediocre resulting in a 65.5% decrease from the unadjusted gross of the predecessor. Speaking in inflation-adjusted numbers (which I usually tend not to do), it probably lost over three quarters of its audience.
Sure, Jason Statham's movies usually have a pretty set range of $25-30 million that they fall into. Killer Elite managed just that, gathering $25.1 million during its domestic run. Still, I can't shake off a feeling of disappointment over its performance. It's not just its $70 million budget making it one of Statham's biggest flops, it's also that this time he was supported by Clive Owen and Robert De Niro giving the film a more high profile cast than Statham's films usually have. Having been released in almost 3,000 theatres, a sub-$10 million opening is certainly not what the studio has hoped for.
Cowboys & Aliens is the one movie that I really contemplated about putting into the Top 10, but left it outside simply due to fierce competition for the remaining spots. It barely missed, though due to actually reaching $100 million. Nevertheless the disappointment here is undeniable. Jon Favreau was just coming off two huge $300+ million hits with Iron Man and Iron Man 2 and was taking on another comic book adaptation. In a summer full of sequels and prequels, the premise for this film seemed original with its combination of a Wild West setting and a science-fiction extravaganza. With Daniel Craig and Harrison Ford two formidable leading men have been recruited. Moreover, less than a year earlier the immense breakout of True Grit has shown that the audiences are not averse to westerns at all. However, as the release approached the expectations started to become more and more muted and it became slowly clear that the hoped for breakout wouldn't happen. It captured the top spot with $36.4 million, but thanks to a mixed word-of-mouth didn't live a long life in the charts, barely crawling beyond $100 million in its 12th week. Given the $163 million budget and the people behind the film a bigger turnout was rightfully expected.
But now let's go to the real letdowns of 2011.
10. Larry Crowne ($35.6 million) – Universal's Larry Crowne certainly didn't lose the studio as much money last summer as did their other box-office disappointment, Cowboys & Aliens. Afterall Tom Hanks' second directorial effort carried a price tag of just $30 million. Nonetheless, the movie is a notch higher on the disappointment scale given the talent involved. Long gone are the times of Tom Hanks being a formidable box-office draw. His last movie to cross $100 million that was not a Dan Brown adaptation or animated is Catch Me If You Can all the way back in 2002. Keep in mind, this is the actor who had six $100+ million live action grosser within a span of five years between 1998 and 2002. Same goes for Julia Roberts whose only non-Ocean's Eleven/Twelve $100 million movie after Erin Brockovich in 2000 was the ensemble romcom Valentine's Day in 2010. She has also had much better times when she churned out three $100+ million hits in 1999/2000. However the solid performances for Valentine's Day ($110.5 million) and Eat Pray Love ($80.6 million) signalled that she might be back as a box-office magnet if put in the right movie. Larry Crowne seemed just the right vehicle for both megastars. A very lightweight romantic comedy released as counter-programming to the blockbuster behemoth Transformers: Dark of the Moon. Such counter-programming has worked very well before (think The Devil Wears Prada released against Superman Returns or Mamma Mia! against The Dark Knight). Larry Crowne, however, failed to attract audiences and opened to just $13.1 million. What followed was even worse. Muted response to the film made sure that despite summer weekdays and the genre which usually allows for more longevity, the film didn't even get to an opening-to-total multiplier of 3. This was certainly the box-office low point for both of the stars involved.
9. Cars 2 ($191.5 million) – Cars 2 is not the only animated film on this list and compared to some others its disappointment hasn't been as harsh. In general it really wasn't a good year for animated films at the domestic box-office with not a single one crossing $200 million (in 2010 five animated films crossed that barrier). Cars 2 not only became the second-lowest grossing movie ever for the acclaimed Pixar brand (only ahead of A Bug's Life), it also ended up as their first movie that failed to cross $200 million since 1998. The decrease from its predecessor wasn't huge. The first Cars made $244.1 million back in 2006 meaning that Cars 2 dipped just 21.6% from its total. Also, its $190+ million gross still ensured it a firm spot in the yearly Top 10 of 2011. So why should it be still considered a disappointment? Mostly because it is Pixar which is known for the box-office consistency. It's true that the original Cars was one of their worst-reviewed and seemingly least well-liked movies. Nevertheless, looking at raw numbers one could think otherwise. Cars managed a multiplier of over 4 back in 2006 and became one of the biggest movies ever on home video, selling well over 15 million copies on DVD. Moreover, it made Disney several billion dollars in merchandise keeping the franchise present throughout the years until the sequel's arrival. The expectations were for the follow-up to handily pass the original's gross and maybe even play with $300 million thanks to the added bonus of 3D. It actually managed to slightly outdo the first film's opening weekend, but the legs were by far the worst for any Pixar movie (it failed to get a multiplier of 3), reflecting the surprisingly poor reviews for a Pixar movie. The only reason why Cars 2 is not higher on this list because it has been preceded by another major animated disappointment which gave us a clue that making a sequel to a beloved animated movie doesn't automatically guarantee you a gross higher than that of the original. Nevertheless, this was a thoroughly disappointing performance.
8. Mars Needs Moms ($21.4 million) – This March-released $150 million Disney flick might not be last year's biggest disappointment at the box-office, but it was definitely its biggest outright bomb. It had family-oriented competition presented by Rango's second weekend when it was released, but nevertheless, it was still the only major 3D family-oriented film in the marketplace. Not only that, but Mars Needs Moms was actually also an IMAX release. This performance is truly unprecedented in its awfulness. Mars Needs Moms became the lowest-grossing feature length IMAX release ever and that despite the 3D premium. For a major Disney release that was also produced by the very successful Robert Zemeckis it is a truly awful performance. It doesn't get a higher spot simply because expectations haven't been that great for it to begin with, but no one expected a turnout this poor.
7. Hugo (~$71 million) – For a very long time Martin Scorsese was known for producing acclaimed movies, but certainly not for being a guarantee for financial success. For over ten years Scorsese's biggest film had been Cape Fear ($79.1 million). The turn came with Gangs of New York in 2002. While the film itself with its $100 million budget wasn't a hit as it made just around $78 million it was the beginning of a new part of Scorsese's career. What followed were three consecutive $100 million domestic performers: The Aviator ($102.6 million), The Departed ($132.4 million) and Shutter Island ($128 million). In the meantime Scorsese has finally won his long overdue Best Director Oscar and due to the success and general acclaim of his movies finally became a household name to general moviegoing audiences seemingly making him one of the few directors out there whose name alone is already a box-office draw. When Hugo has been announced expectations were somewhat mixed because it didn't star the Scorsese regular DiCaprio and was a big departure for the director, making it not only his first family-oriented film, but also his first venture into 3D filmmaking. However, Hugo opened to raving reviews praising the quality of the 3D employed as well as the film itself. The film was released in just 1,277 theatres over the Thanksgiving weekend and delivered an impressive $8,899 average. Many have expected for it to go on and heave a very long and healthy life at the box-office after that thanks to its acclaim and stzrong Oscar buzz. In fact the buzz has held throughout the season. Hugo has won Scorsese his third Golden Globe as Best Director and went on to get 11 Academy Awards nominations, making it this year's most nominated movie. Despite all that and the holiday season which is usually very kind to family-oriented films the movie's legs never truly took off. Of course it was still very leggy, but given its rumoured $150+ million budget and its seemingly wide appeal to families and adults alike its struggle to even reach $70 million (whereas much darker and seemingly less accessible fare like Black Swan went above $100 million a year earlier) can't be called anything other than a disappointment.
6. Your Highness ($21.6 million) – When the first trailer for the film have been released it seemed to have a whole lot going for it. David Gordon Green's previous foray into R-rated comedies yielded great results – Pineapple Express $87.4 million back in 2008 despite being squashed between two other R-rated comedies – Step Brothers and Tropic Thunder which both went on to make $100 million. Your Highness re-united the stars of Pineapple Express – James Franco and Danny McBride – with the film's director. With Your Highness the director attempted to put the stoner humor of Pineapple Express in a medieval setting. While the trailer promised laughs aplenty it also has shown some action scenes and special effects. The package promised a major fantasy comedy in the vein of Stardust or The Princess Bride, just rated R. What's even more the two stars of the film were really hot around the time the marketing hit. James Franco has just been nominated for an Oscar for his performance in Danny Boyle's 127 Hours and has hosted the Academy Awards ceremony. Natalie Portman, the film's female star has just for the Best Actress Oscar for her huge hit Black Swan which, despite its R-rating and the ballet setting, made $107 million at the box-office. The R-rated romcom No Strings Attached that was released just three months prior to Your Highness has shown Portman to be a solid box-office draw thanks to Black Swan as that film went on to make over $70 million. Your Highness has the pedigree to break out…it just didn't. The tepid reviews and mixed WoM didn't help the cause and the fantasy setting probably turned off the demographics usually interested in R-rated comedies. In the end it made just over $21 million which is only a little bit higher than No Strings Attached's opening weekend was.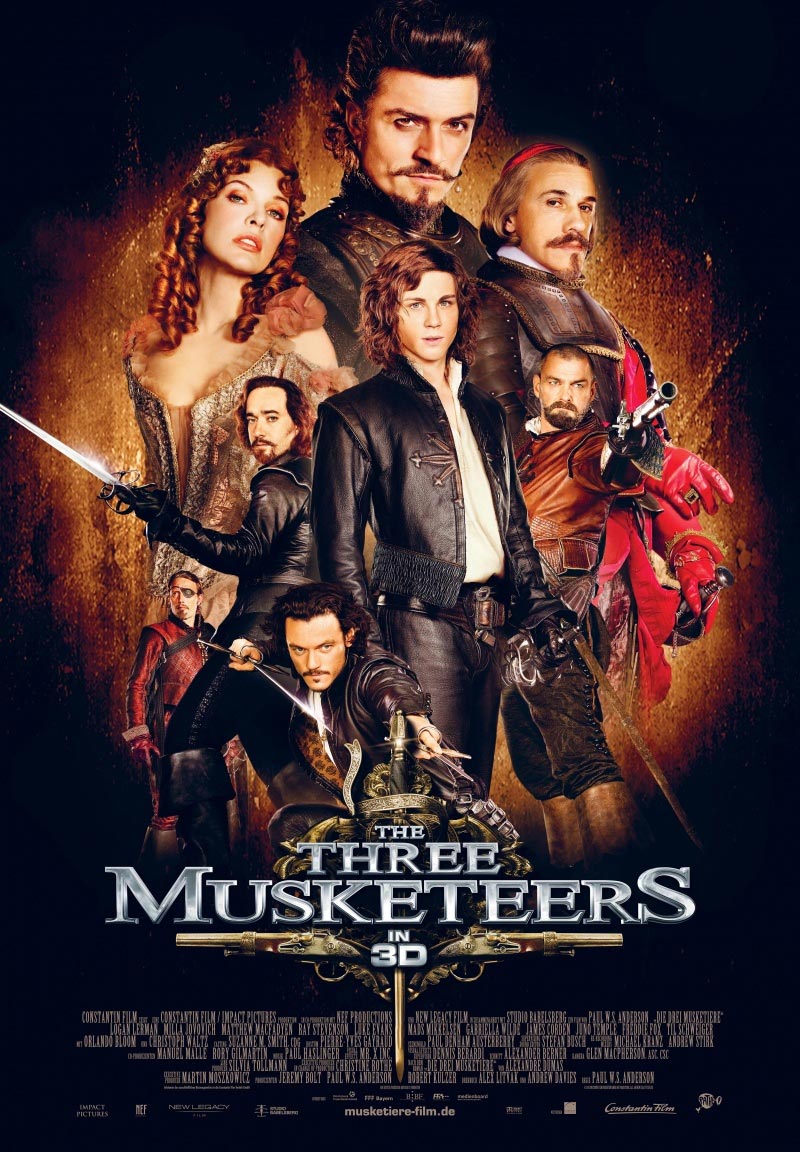 5. The Three Musketeers ($20.4 million) – Paul W.S. Anderson isn't exactly known for quality filmmaking. However, he has directed several solid box-office success stories and The Three Musketeers was set to be his biggest film yet budget-wise. Anderson whose credits include Alien Vs. Predator ($80.3 million), Resident Evil: Afterlife ($60.1 million) and Resident Evil ($40.1 million) was given $75 million for a new take on the classic Dumas adventure novel. What Summit Entertainment has clearly hoped for (as also hinted by the film's ending) is to possibly build a franchise akin to Sony's Zorro movies starring Antonio Banderas. Those films were also a new take on the old material that ended up being a surprising success. The Mask of Zorro made $94.1 million back in 1998. The main hopes for The Three Musketeers' success always rested on the overseas markets, but Summit certainly expected more than just above $20 million for its performance in North America. But despite heavy marketing, a cast that included Orlando Bloom, Milla Jovovich and Christoph Waltz and the popularity of the source novel the movie just fell flat on its face in its opening weekend and never recovered. The movie was obviously never expected to be awards material, but given its lightweight entertainment factor it is surprising that the domestic audiences didn't bite here at all.
4. New Year's Eve ($54.5 million) – Maybe this should have been expected given the word-of-mouth and the horrendous multiplier of its unofficial predecessor Valentine's Day which opened to over $56 million, but grossed just above $110 million back in February 2010. No one expected an opening even close to that of Valentine's Day which not only had the boost of the Presidents Day weekend, but also the Valentine's Day itself which fell on its first Sunday. However nothing could prepare the box-office followers for the miniscule $13 million opening that New Year's Eve delivered from over 3,500 theatres. This is the 3rd-worst opening ever for a movie that opened in over 3,500 theatres. The circumstances were in its favour too. It was the weekend following the post-Thanksgiving Weekend. There have been no wide openers on the previous weekend and there were basically no date movies in the marketplace (considering that Twilight skews mostly just females). It was released to virtually no competition whatsoever (unlike Valentine's Day which had two other openers that made over $60 million taken together). Its all-star cast was no less impressive than that of Valentine's Day, including Michelle Pfeiffer, Zac Efron, Halle Berry, Robert De Niro, Katherine Heigl, Sarah Jessica Parker, Josh Duhamel and Ashton Kutcher. Its release date, of course, wasn't as perfect as that of Valentine's Day, but that alone certainly doesn't explain why it made less in it s opening weekend than Valentine's Day grossed in its opening day alone. Legs were of course better, but it was all lost already. The movie didn't even manage to make as much in its entire run as Valentine's Day grossed opening weekend. It could not even benefit from the lack of any other romantic comedies released in December.
3. Kung Fu Panda 2 ($165.2 million) – Cars 2 would have seemed an even bigger disappointment if not preceded by Kung Fu Panda 2 which set the precedence for disappointing performances among animated sequels. The original film surprised back in 2008 becoming DreamWorks' highest-grossing non-Shrek animated film. Despite stiff competition from WALL-E in that summer, Kung Fu Panda went on to gross $215.4 million domestically which was followed by a great performance on home video where the movie sold over 9 million units on DVD. Many have expected for Kung Fu Panda 2 to go the same way as Shrek 2 which exploded when it opened back in 2004. It increased almost 65% over the already successful first Shrek film and with a total gross of $441.2 million stands, to date, as the most successful animated movie of all time domestically. Now not many have expected such a performance for Kung Fu Panda 2, but given the great reception of the first film, $300 million seemed easily within reach. But then Kung Fu Panda 2 (which, unlike Cars 2, actually collected mostly good reviews) made just $66.7 million over its five-day Memorial Day weekend and was handily beaten by The Hangover Part II in its opening. That five-day total was just a little higher than the first Kung Fu Panda's normal non-holiday 3-day opening and that despite three years of inflation and 3D. It never rebounded too with only one drop better than 45% during its first eight weeks on release. It decreased 23.3% from its predecessor which is an even worse drop-off than between Madagascar and Madagascar: Escape 2 Africa, even though Kung Fu Panda was generally considered to be better-received than the first Madagascar. The future of the series is still looking good as it is a box-office monster overseas (the second film passed $500 million in international markets), but domestically that was a severely disappointing outcome.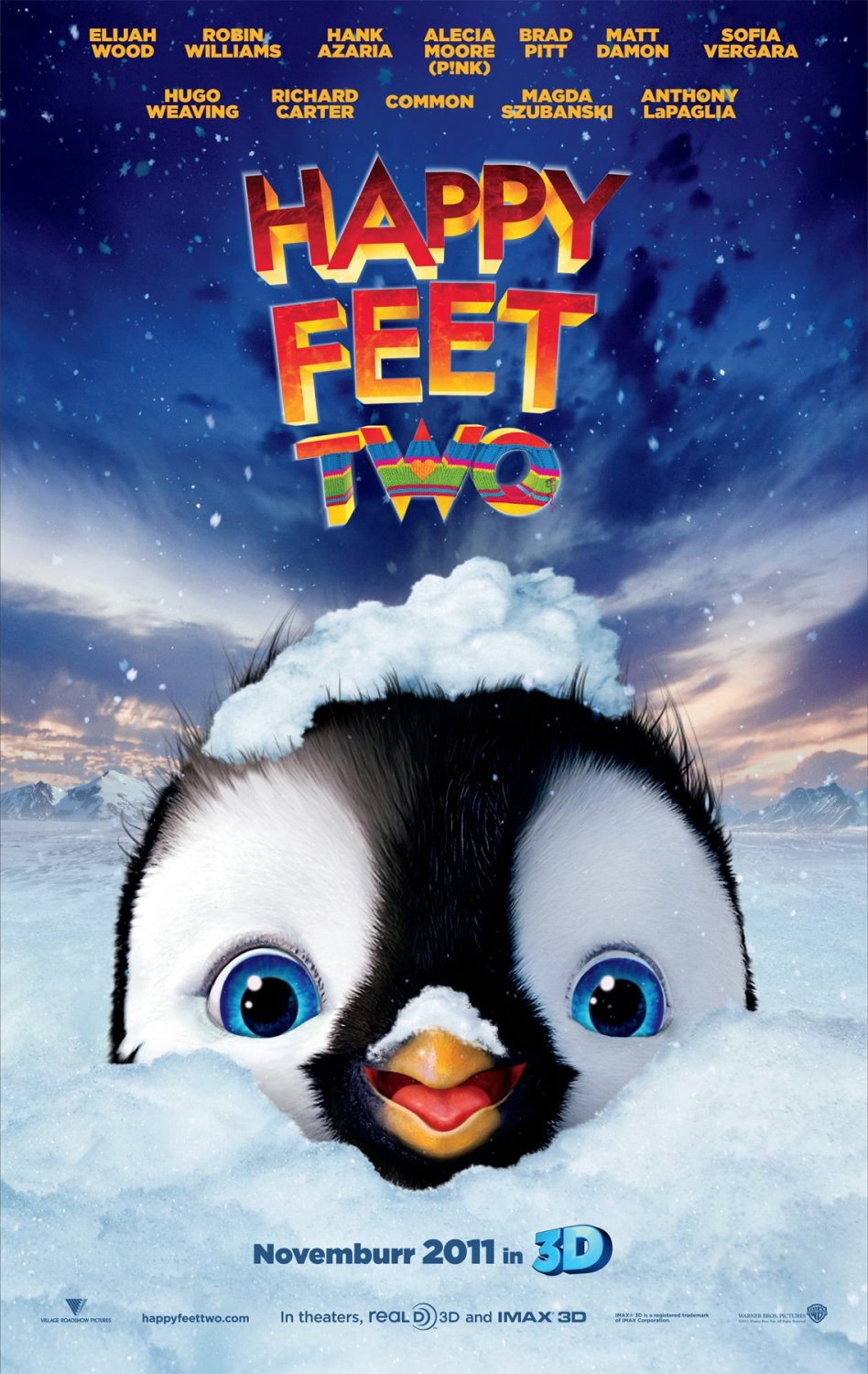 2. Happy Feet Two ($63.7 million) – Whereas the performances of Kung Fu Panda 2 and Cars 2 have been disappointing, yet still somewhat successful, Happy Feet Two's box-office run was just disastrous. Among all the disappointing animated sequels last year Happy Feet Two still clearly stands out as the biggest loser and could just as well be at #1 of this very list. Let's think back to the first movie. Happy Feet opened in November 2006 on the same weekend as the newest James Bond flick, Casino Royale, and narrowly won the top spot with a great $41.5 million opening. It was a great start for an animated film not produced by Pixar or DreamWorks. The offbeat humor marketing which focused on tap-dancing penguins paid off and Warner Bros. landed a huge animated hit. Its legs speak for themselves too as the movie managed a multiplier of over 4.75 on course to a $198 million domestic total. In an even more surprising outcome it managed to triumph over Pixar's Cars at the Academy Awards and won the Oscar for Best Animated Feature. What followed was a tremendous home video performance with Happy Feet selling over 13 million copies on DVD. It seemed like a beloved movie, perfectly fitting for a sequel. The problem was that while the audiences apparently loved the first film there was no longing for a follow-up and WB's creepy trailers couldn't sell it well either. The previous disappointments of Cars 2 and Kung Fu Panda 2 earlier in the year prepared the box-office followers for another disappointment here, but no one expected a performance this bad. Despite IMAX and 3D Happy Feet Two opened to around half of what the first movie opened to and went on to make around 32% of the first film's total. Of course facing three major family-oriented releases in its second weekend didn't help matters, but the holiday season is usually known for being able to accommodate many family films at once and there was still no room for Happy Feet Two which barely managed an opening-to-total multiplier of 3. It was a horrendous performance given the success and the popularity of the predecessor.
1. Scream 4 ($38.2 million) – It was a tough decision for the Top spot of this list, but in my opinion it belongs to the most disappointing sequel of the year (box-office-wise). Scream 4 seemingly had success written all over it. The Scream franchise was one of the biggest horror franchises ever and single-handedly revived the entire slasher sub-genre at the end of the 1990s. The first two movies passed $100 million with the third movie setting the record for the widest opening ever as it hit 3,467 theatres back in February 2000. With the entire principal cast and the director returning for a fourth movie, over ten years since the third many have expected that nostalgia would help the film break out in the way that Fast & Furious managed to break out a year earlier as it re-united the entire cast of the first movie. Fast & Furious delivered a humongous $70 million opening and went on to become the highest-grossing film of the series. Bu the magic didn't work here. The disappointment was terrible Scream 4 didn't even break $20 million in its opening, settling for $18.7 million, more than 46% down from Scream 3's start despite 11 years of inflation between the movies. It didn't even get close to capturing the top spot in its opening weekend (it went to Rio) and in the following weeks it dropped like a rock due to expected frontloading. The movie spent just mere two weeks inside of the Top 12 which is beyond disappointing. EVEN more shocking was that its total gross was handily topped by a low-budget horror flick Insidious the very same spring. With a $40 million budget the Weinsteins certainly didn't lose much over the movie, but given the franchise's legacy it was a pathetic performance.
I hoped you liked the list and don't hesitate to comment if you agree or disagree.
Article Stats:
Score:
40
Views:
5182