Weekend Box-Office Analysis (Jan 27-29, 2012)
Coming off the announcement of the Academy Awards nominations on Tuesday, several movies could greatly benefit at the box-office from being recognized by the Academy. Nevertheless, despite that and three wide openers the Top 12 cume went down 9.5% from last weekend to $99.4 million. This is the first time since the December 9th weekend that the box-office action dipped below $100 million for the Top 12. In turn, it was still 7.5% higher than the similar weekend last year when The Rite opened on top to a mild $14.8 million.
The top spot of the weekend went to the R-rated survival action flick The Grey. The Joe Carnahan-directed film garnered very solid reviews and delivered a respectable $20 million from 3,185 locations over the weekend for a good average of $6,279 per theatre. The movie is just the second film to be distributed by Open Road Films. After the failure of their first flick, Killer Elite which grossed just $25.1 million on a $70 million budget despite an impressive cast (Jason Statham, Clive Owen and Robert DeNiro), The Grey is a great success story for them given the film's estimated $25 million budget. Just like Limitless ($79.2 million) did for Relativity, another newly established film studio, The Grey's success could help Open Road Films to find some solid footing in the business.
Furthermore, The Grey's #1 opening goes on to show the recent strength of R-rated movies as well as the incredible overflow of these in January. It marks the fourth weekend in a row that the #1 movie is rated R. The entire January had R-rated movies on top of the box-office each weekend. The trend will come to an end next weekend which is the first since December with not a single R-rated movie being widely released, but it is still a strong argument for the power of R-rated films on one hand and for some rethinking on the studios' part on the other. Smart rescheduling could have helped some family-oriented movie thrive in January which has seen only the re-release of Beauty and the Beast in 3D as the only new option for kids. The Grey also solidifies Liam Neeson's status as a box-office draw in action-oriented films. It wasn't until the breakout of Taken ($145 million) that Neeson became a household name in the action genre. While The A-Team ($77.2 million) disappointed at the box-office in 2010, Unknown ($63.7 million) turned into another hit for Neeson and took the top spot despite its R-rating when it opened last February. The Grey's success bodes well for the release of Taken 2 later this year. Despite solid reviews, the word among the audiences for The Grey seems to be just mediocre as shown by its "B-" CinemaScore. It won't have much direct competition next weekend, but the week after Denzel Washington's Safe House will go for its audiences. I expect the film to finish in the same ballpark as Unknown, ending up in the $60-70 million range.
The second spot went to Underworld: Awakening which managed a solid 50.6% drop to $12.5 million and $45.1 million after ten days on release. It's the best hold any movie of the franchise has delivered to date and despite having opened lower than Underworld: Evolution, it is now tracking $0.5 million ahead of it. The franchise is still alive and well, having survived one instalment without the series' main star, Kate Beckinsale. The first film was a minor surprise back in 2003. Back then no one could envision Kate Beckinsale as a formidable action star. However, the Len Wiseman-directed film opened to $21.8 million and went on to gross $52 million on a $22 million budget. Its follow-up, Underworld: Evolution arrived three years later and thanks to a strong fanbase of the original, delivered a stronger opening with $26.9 million which led to a $62.3 million total. After that, Wiseman and Beckinsale decided to step away from the franchise which led to a decline when Rhona Mitra stepped into Beckinsale's boots in the prequel Underworld: Rise of the Lycans. The film opened in January 2009 and made $20.8 million in its opening on course to a $45.8 million total gross. However with its $35 million budget and a very strong home video performance it was still a resounding success. This led to the studio convincing Beckinsale to come back to the series that made her a major star. Another novelty for Underworld: Awakening is that it is the first 3D film in the franchise which, similar to the likes of Resident Evil: Afterlife or The Final Destination contributed to an increased opening.
The film's performance so far shows that it is an enduring franchise with a very consistent and devoted fanbase. The franchise has never been known for good legs and there was no reason to expect anything different this time around, even despite the great "A-" CinemaScore. It seems, however, that the WoM is doing its work this time. Considering that movies have become more and more frontloaded in recent years, it is quite amazing for it to have a 2nd weekend drop smaller than that of the first film back in 2003. The film won't have any 3D competition next weekend and should do well until the re-release of The Phantom Menace and Journey 2 take away a lot of its 3D screens, with Journey 2 also snatching its IMAX screens. It's the SuperBowl that will severely hurt the film's performance next weekend by taking away most of its male moviegoers on Sunday. The film should still be able to finish as the franchise's best performer with around $69 million in the bag. What puts this performance in a worse light is the film's $70 million budget which is much higher than that of the predecessors. It will make the money back with the overseas returns, but it won't look like the resounding success that it should look as thanks to the studio spending too much on it.
The critically maligned Katherine Heigl starrer One for the Money took in $11.8 million over the weekend from 2,737 theatres for a decent per-theatre-average of $4,293. The movie based on the first of the popular Stephanie Plum novels by Janet Evanovich was supposed to be a possible franchise starter for Heigl, but given its lukewarm box-office performance (considering its $40 million budget), its mediocre WoM (its CinemaScore came in at a "B-") and its terrible reviews, the prospects of seeing another Stephanie Plum adaptation with Heigl are rather unlikely. Katherine Heigl is usually able to draw in a decent-sized audience, but her box-office draw apparently doesn't work when she is making movies for Lionsgate. Their last film was Killers which (despite also having Ashton Kutcher) grossed just $47 million on a $75 million budget. One for the Money will wind up with around $34-37 million in the bank before leaving the theatres.
The George Lucas-produced WWII dogfights action film Red Tails can still benefit from being one of the few non-R-rated movies in the marketplace. While it dropped two spots to #4, it lost 44.6% of its audiences for a $10.4 million weekend and $33.8 million after ten days. The "A" CinemaScore must be helping the film and I expect it to develop even better legs later on in its run. The film clearly appeals to urban audiences and there is nothing else for that segment until the end of February when Tyler Perry's new film is being released. It is important for Red Tails to gross as much as possible in North America as its overseas appeal is very limited and its $58 million budget is not that small. I project it to finish with around $61 million which should be solid enough for a follow-up that George Lucas is apparently already planning.
Summit Entertainment's Man on a Ledge delivered an unimpressive $8.3 million from 2,998 locations, averaging just $2,769 per theatre. That was just enough for the 5th spot of the box-office. It's not a particularly good start for the Sam Worthington thriller and even the "B+" score from CinemaScore won't help matters much. The $42 million film shouldn't be able to make its budget back with $20-23 million being its likely final gross.
Extremely Loud and Incredibly Close settled for the 6th spot this weekend with a $7.1 million (down 28.9%) take which brought its total gross to $21.1 million. The Stephen Daldry film was the biggest surprise nominee for Best Picture at this year's Academy Awards when the nominations have been announced last Tuesday. The film scored just two nominations in total – Best Picture and Best Supporting Actor (Max von Sydow). The former is particularly surprising given the film's tepid reviews and lack of any precursors. In any case, the 9/11 drama could use any help and with its decent hold the boost is showing. However the film is extremely unlikely to score any wins and the boost should soon disappear. It will end up with around $41 million and a good chance of passing The Hours' $41.7 million in order to become Stephen Daldry's biggest film to date.
The Descendants was the weekend's biggest winner. The five-time Oscar-nominated film (including Best Picture, Best Director and Best Actor for George Clooney) jumped from #16 all the way to #7 of the box-office as it added 1,441 theatres to bring its total theatre count to 2,001. This theatre count increase along with the nominations boost helped the film to increase 176.1% from the last weekend to $6.6 million. Its running total now stands at $58.8 million. Its PTA for the weekend was $3,273. It's terrific as its PTA dropped less than 23% from last weekend whereas the theatre count almost tripled. It's still hard to tell where the film is going to end up, but it is already an overwhelming success and a lock to beat Sideways ($71.5 million) as Alexander Payne's highest-grossing film to date. Sideways made more than half of its final cume after the announcement of the nominations. Now I don't expect the same for The Descendants because it has already been pretty popular before the Oscar nominations. However, it is obvious that it is getting a sizable boost now and it should continue to play well until the Academy Awards ceremony. Its final gross obviously depends on whether or not it will be able to take home the big prize or at least the Oscar for Clooney. The former is looking less and less likely with the Artist gaining strength, but the latter is quite possible. Right now we are looking at a $85-95 million finish, with $100 million in sight if it actually manages to win Best Picture. Either way, it will almost certainly become the highest-grossing film ever that has never entered the Top 5. Right now it is #10 on that list, but it is climbing fast.
Contraband slipped five spots to #8, dropping 46% to $6.5 million in the process. The Universal remake is now at $56.4 million after 17 days. Mark Wahlberg's starpoewer is as strong as ever as he is pretty much the film's biggest pull. Next weekend it will finally face no direct R-rated competition until Safe House hits it hard the weekend after. It won't get a chance to develop solid legs, even though the word on it is pretty good. This really goes on to show that the studios really messed up the scheduling this winter, overcrowding January with R-rated movies and releasing almost nothing for the families. These R-rated films are just eating into one another's audiences. Contraband will still go on to end up with around $71 million, but more could have been in store for it and other movies like Haywire with smarter scheduling.
Beauty and the Beast 3D can still reap the benefits of being the only remaining major family-oriented movie in the marketplace. The film dropped 39.1% to $5.3 million as it went down to #9. Its running gross stands at $41.1 million now with its lifetime total being $212.5 million. Obviously its performance is a far cry from that of the re-release of The Lion King, but considering that this is basically just a major advertisement for the film's BluRay and considering how little Disney has spent on the film's 3D conversion, it is still a great performance. I expect it to crumble as soon as it faces direct competition from The Phantom Menace 3D and Journey 2 and to finish with $51 million.
Stephen Soderbergh's Haywire occupied the 10th spot this weekend as it delivered the worst hold in the Top 12. The stylish action thriller dipped 52.5% to $4 million bringing its running total to $15.3 million. It's definitely not a great number, but keeping in mind its $23 million budget and the horrendous "D-" CinemaScore it certainly could have been worse for it. I see it leaving the theatres with $21 million in its pockets.
Mission: Impossible – Ghost Protocol dropped 36.1% to the 11th slot of the box-office this weekend. Its $3.6 million weekend gross brought its running gross to $202.6 million. This solidifies the status of the film as a huge blockbuster as it finally crossed the $200 million barrier – something most considered very unlikely prior to the film's release. It also makes it the 7th movie of 2011 to cross that mark. Now the question remains: does it have enough stamina to cross Fast Five's $209.8 million to end up as #6 of 2011? That will certainly depend on how well the film can hold on to its screens and theatres for the next few weeks. M:I-2's $215.4 million seems out of reach now, but Fast Five can still be overtaken. I see it finishing with $212 million in the bank which is just a tremendous box-office performance for this film.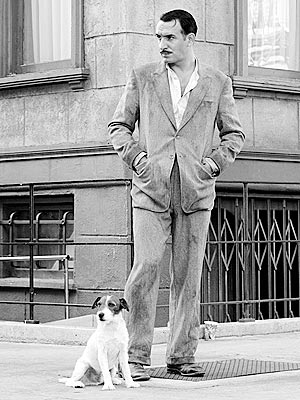 At last the biggest Best Picture Oscar contender of the year, The Artist, entered the Top 12. The silent black-and-white movie added 235 theatres, bringing its theatre count to 897. This led to its weekend take increasing by 39.8% to $3.3 million for a running total of $16.7 million. What is particularly impressive is that its per-theatre-average of $3,696 was still up 3% from its last weekend despite the expansion. This just shows how well the buzz is building for this 10-time-nominated movie. The film is definitely an oddity nowadays and certainly not something for everyone, but huge awards buzz and good WoM are actually opening it up to mainstream audiences. It is still too early to tell where it will go as it will most likely win Best Picture at the Oscars, but I think it is safe to say that it will definitely end up with $35+ million in the bank with a good shot at passing $50 million.
Article Stats:
Score:
32
Views:
1932